Torbay Tour Friday 7th - Monday 10th October

After the success of its first tour last year, twenty three members of the choir departed on Friday 7th October for another weekend away. The destination was once again Torbay. There was a full itinerary organised by Maureen and Donald Stevens, members from the choir's beginnings.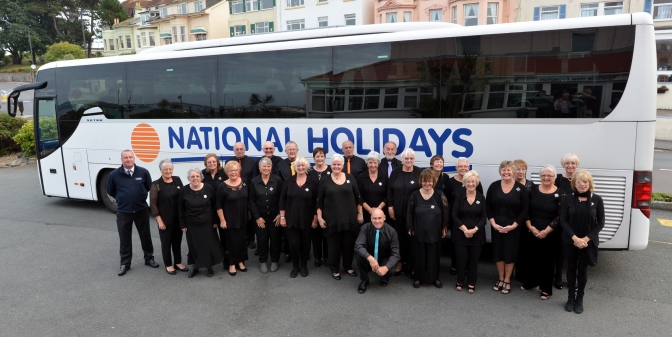 [more photos on the gallery page]
The journey on Friday included stops at Trerulfoot and Buckfast, before settling into the accommodation and an evening meal. The social side of the trip is seen as most valuable in bringing the members closer. On Saturday transport was provided for those who wished to spend the day in Torquay.
In the evening the choir gave a concert at the Methodist Church in Palace Avenue, Paington, a beautiful building with excellent acoustics. This was the focus of the weekend, with over £300.00 raised for the Rowcroft Hospice, which cares for people with life limiting illnesses across 300 square miles of South Devon and its nurses make 2,000 home visits annually . The concert had a varied programme, including audience participation in an Abba medley and the Floral Dance, plus two beautiful duets by William and Trish Thomas - 'Perhaps Love' and ' Love can Build a Bridge' .
A trip to the lovely village of Cockington was organised for Sunday, which was all the better for the fair autumn weather. In the evening the choir gave an impromptu medley of songs from their concert for the guests at the hotel.
A lunch stop at Strawberry Fields on the way home completed a very successful and enjoyable time.
Letter of thanks:
Dear William and all the St. Ives Choir Members
I just had to write to let you know again how much your singing and company was enjoyed last Saturday.
As I said I was again privileged to be with you all again on the Sunday night. The Hotel must have been
pleased to have such entertainment for their other guests.
I do hope that your journey home went well and that you all felt it was really worth visiting this foreign land!
If you ever find that you can stray 'over the border' again we would love to see you, but I realize we were
only lucky to have the opportunity for Rowcroft Hospice because Rotary members took a trip away.
Do wish the choir a rather early Happy Christmas and news of a much more peaceful New Year worldwide.
Sending warm wishes
Pat Goss
Chairman of the Friends of Rowcroft Hospice